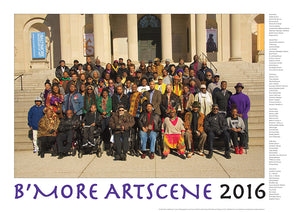 Title: B'MORE ARTSCENE 2016
Artist: Larry Poncho Brown
Size: 32.5" X 23"
Medium: Offset Lithography
"A Great Day In Baltimore".
...
celebrating Baltimore's African American artists
! 
Second Row
Alyshia Niko Williams, Linda Gray, Jerome Chester, Jimi Fardan, Monique Mahogany Mercer, Espi Frazier, E. Lyle Henderson, Arthur C. Brown, Valerie A. Smith, Ursula Cain-Jordan, Kibibi Ajanku, Mandela E. Brown, and Larry Poncho Brown.
Third Row
Shawn Livers, Tracy Stevens, Raymond Lucas, Jose J. Mapily, Lavonda "Sofresh" Johnson, Leslie King Hammond, Linda Tucker, Brianna Faulkner, Jasmin Manning, Carol Ann Morgan, Karen Y. Buster, R. Francine Harris, and James E. Murphy Jr.
Fourth Row
Ariston Jacks, Denise J. Bell, Paula Phillips, Adonica Hull, Dallin F. Smith, II, Ernest E. J. Shaw, Jr., Nathaniel Kato Gibbs, Nikia Kigler, Arin Mitchell, Christina Cook, Randy Walters, and Jerry Prettyman
Fifth Row
Kalifah Jehaan, Anndell V. Banks, Artlisia Bibbs, Judy Waddy, Gloria Mack, Gabrielle Lynn McLemore, Kamau Sennaar, Tiffany D. Jones, Kafi A. D'Ambrosi, and Phillip Snead
Sixth Row
Jonathan Greene, E. L. Briscoe, Gary A. Mullen, Mark Cottman, Asanji Chofor, Brandon Lee, Lavon Gardner Wilkens, Cheryl Lynn Terrell, Guy Jones, Earl Jones, Edward Taylor, Schroeder Cherry, and Stephen Towns.
We give all honor and respect to the five artists at this gathering that are no longer with us. (Ernest M. Kromah, Jimi Fardan, Nathaniel Kato Gibbs, Jose J. Mapily, and

Darren Guest

)